The nation's most popular alternative and rock festival, aside from the always magnificent untouchable Glastonbury, is probably Leeds/Reading – with a lineup considered to be decreasing with quality and increasing with predictability each passing year, more and more people are opting to attend two or three smaller festivals instead. Not only can you buy tickets for a couple of smaller festivals for the same price as L&R, but the only partially complete 2017 lineups they have unveiled so far are already brimming with huge headliners and performers fresh in the music industry! Here are five festivals who have upped their game this year, and have compiled lineups giving the largest festivals a run for their money:
2017 Dates: 21st – 23rd July
Location: Steventon, Oxfordshire
Lineup Details: Truck Festival was established in 1998, with an ambition to produce festivals without the predictableness of more established festival headliners. Now in its 20th Year, Truck has signed up Scottish rockers Franz Ferdinand, 'dream lovers' The Vaccines, and indie heroes The Libertines for headliners! The choices are genius; whilst all three bands have well-known tracks, they are not 'safe' options either but will still draw in the crowds. Other performers confirmed on just the first announcement include The Wombats, Slaves, Maximo Park, Twin Atlantic, Nothing But Thieves, Cabbage, Sundara Karma, Will Joseph Cook, The Magic Gang, and Jaws.
2017 Dates: 6th-8th July
Location: Withington, Gloucestershire
Lineup Details: Although it has run for 11 times, 2000 Trees is celebrating its 10th Anniversary this year. Similarly to the roots of Truck Festival, it was established by a group of friends who were no longer happy to pay the expensive prices bigger festivals offer, just to see the same bands lower down the festival hierarchy. Slaves are elevated to headliner position for 2000 Trees – being a duo does not stop Laurie and Isaac creating a raucous, gritty punk sound, and I am delighted that the festival has given them a deserving opportunity to take the top spot. Nothing But Thieves, Jamie Lenman, Pulled Apart by Horses, Dinosaur Pile-Up, Black Foxes, Kwong, Tigerclub and Strange Bones have also been confirmed to join Slaves at the festival in early July.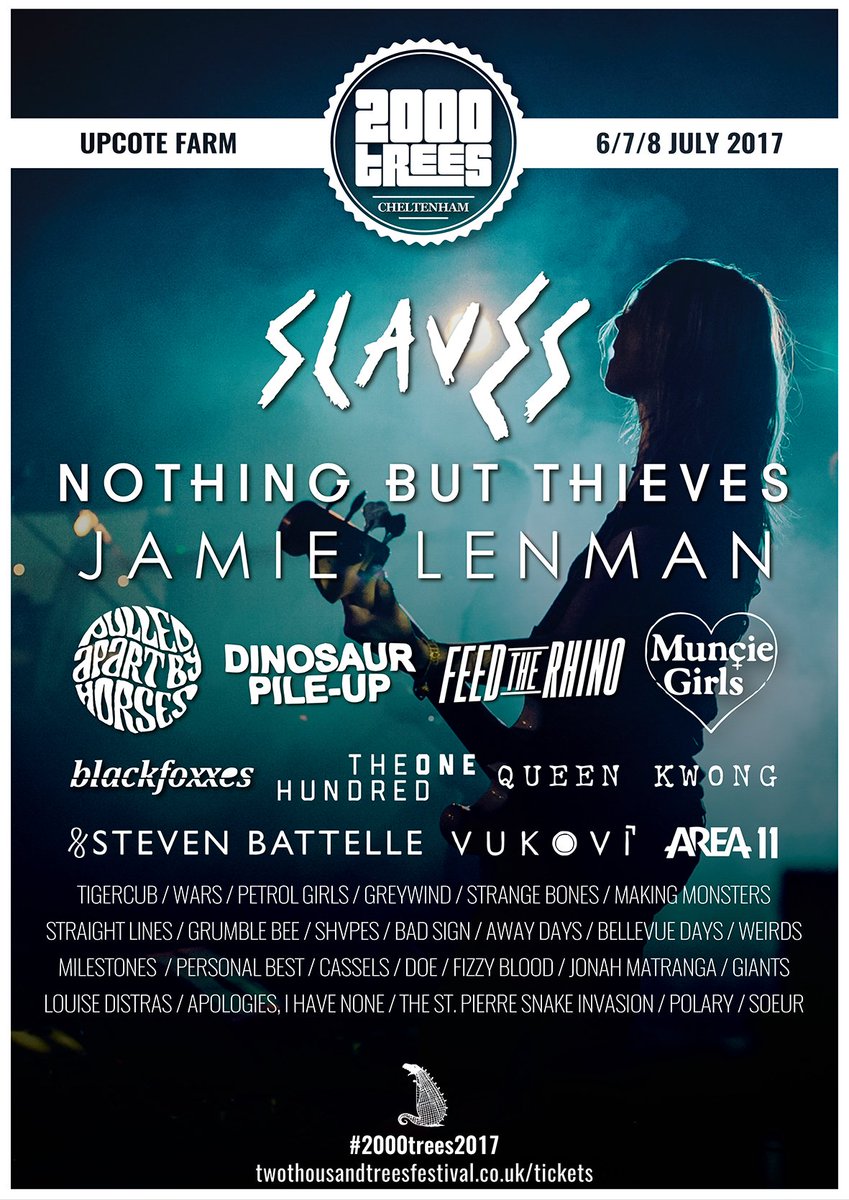 2017 Dates: 9th – 13th August
Location: Newquay, Cornwall
Lineup Details: A festival with a dreamy beach and sea setting, Boardmasters recently announced its first wave of performers for 2017. Indie-turned-funk sounding Two Door Cinema Club and alternative experimentalists Alt-J have been selected to headline, alongside a rare European festival appearance by Jamiroquai. Other names which are definitely heading to the Newquay coastline in August are Andy C, Jake Bugg, Slaves, Wild Beasts, Roger Sanchez, and Becky Hill.
2017 Dates: 27th – 30th July
Location: Pikehill, Derbyshire
Lineup Details: Y Not may be located on the other side of the country, but it does share a headliner and a number of performers with Truck Festival. What differentiates Y Not from the Oxfordshire Festival is swapping The Libertines and Franz Ferdinand for long-time favourites Stereophonics, and Two Door Cinema Club. Again, whilst they are bands with chart and critical success, they are headliners you would still not expect Leeds & Reading to book, due to them favouring usually the same bands over and over again. Y Not has become more diverse from previous years and it is refreshing to see musicians outside of the alternative genre performing, including grime rapper and singer Example, alongside Clean Bandit. The majority of the already announced acts are indie and alternative bands however which will please loyal festivalgoers – Y Not has so far announced Jake Bugg, Feeder, Slaves, The Hunna, Cast, Kate Nash, Fickle Friends, and Shypes to join the headliners in the Peak District this summer.
2017 Dates: 4th – 6th August
Location: Heddon-On-The-Wall, Northumberland
Lineup Details: Unlike the other festivals in this list, Festival on the Wall is brand new, with 2017 marking the first year the event has taken place. As well as being run by independent organisers, a split of the money from each ticket sale is donated directly to the charity Unicef, so as well as hosting a wonderful weekend in an area without any other major festivals, it is also supporting a wonderful cause in the progress. Headlining the first ever Festival on the Wall lineup are Pet Shop Boys, a multi-award winning synth pop duo since the 1980s, and the Libertines. Before more, up and coming artists are added in the second announcement phase, established names also included in the first announcement are Twin Atlantic, Mark Ronson, Maximo Park, JP Cooper, Calum Scott, MNEK, and The Sherlocks.
If you are interested in purchasing tickets for any of the above festivals, or want to find out more details on each festival, you can access their websites by clicking on the name of each festival heading the section of writing on each of them.
Featured Image originally used on Culture or Trash.